Bugfender is a revolutionary product developed specifically to help developers make bug-free apps for their global users. Bugfender is not a crash reporting tool but it is way more than that. We know and completely understand the frustration developers experience while trying to reproduce a bug some users experience because of the variables like different device model, firmware, OS version and numerous others that could not be predicted easily.
Bugfender provides developers a platform where they can monitor their app behavior on users' mobile devices. They can enable logging for a specific user remotely to debug the issue.
The API is not only smart enough to send the statistical data, analytics and logs when device goes online but the SDK is also easy to integrate with any kind of apps. Let's take a quick glance at all the new features we've introduced in the last update of Bugfender.
Free Plan
We know it is important for you to test out the product before making a long term commitment and that's why we have reintroduced the free plan so you can check out the product without any pressure. Unlike the trial plan, you can use the free plan for as long as you like instead of just 14 days.
Referrals and Rewards
You can refer Bugfender to your friends and your friends would get 1-month free usage with every paid plan. And no, we haven't forgotten you; you'll get 80,000 additional log lines for your teams and you can bring that number to 500,000.
Increased Plans Limits
We have doubled the log lines limit for every account and the biggest plans get unlimited users and unlimited apps; isn't it awesome? More log lines mean you can analyze more users simultaneously and make your app bug-free even more easily.
What Are 1000 Apps Doing to Reduce Their Bugs to Zero?
Down to Zero is a practical guide to solving bugs. Our team has been developing mobile apps for over a decade and we'd like to share some tips we've picked up along the way.
Daily Stats
We don't want to bother you with too many emails, so we have improved the daily stats emails to avoid sending you emails if we don't have any data to send to you, so no more emails with 0 sessions and devices.
Improved Device Data
We have improved the device data and stats you get and now Bugfender supports even more variables like Device Language, Device Orientation and Device Type.
New Device Data Layout
We have improved the layout of Device Custom Data which is now better and easier to read.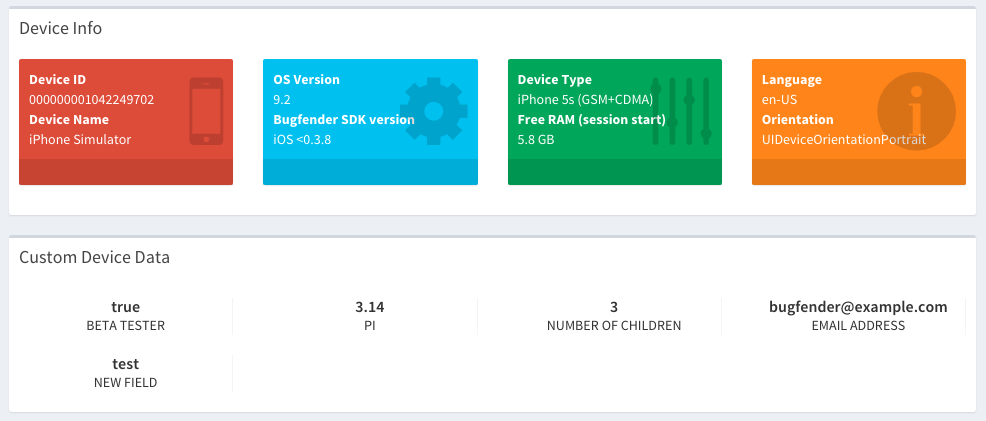 Zapier Integration
We have integrated Zapier, so you can use popular services like Slack, HipChat, GitHub and BitBucket with Bugfender. Now you can receive instant notifications on these services as well as via emails. You'll need a Zapier account to integrate with these services.
In order to access Bugfender zaps, you'll need to accept this invitation:
https://zapier.com/developer/invite/30020/fe02d917d378bc5007e7e96a7e8ee152/
What's Next?
We're excited about the future and are now working on a few things to make Bugfender even better, which we hope to release soon:
Android: Our team has been working on Android SDK for months and we are just near the finish line. We are now performing final tests to ensure everything works fine and Bugfender for Android will be available soon. We even have some customers testing the Beta version on their apps.