Cloud storage for your app logs
Track user behaviour to find problems in your mobile apps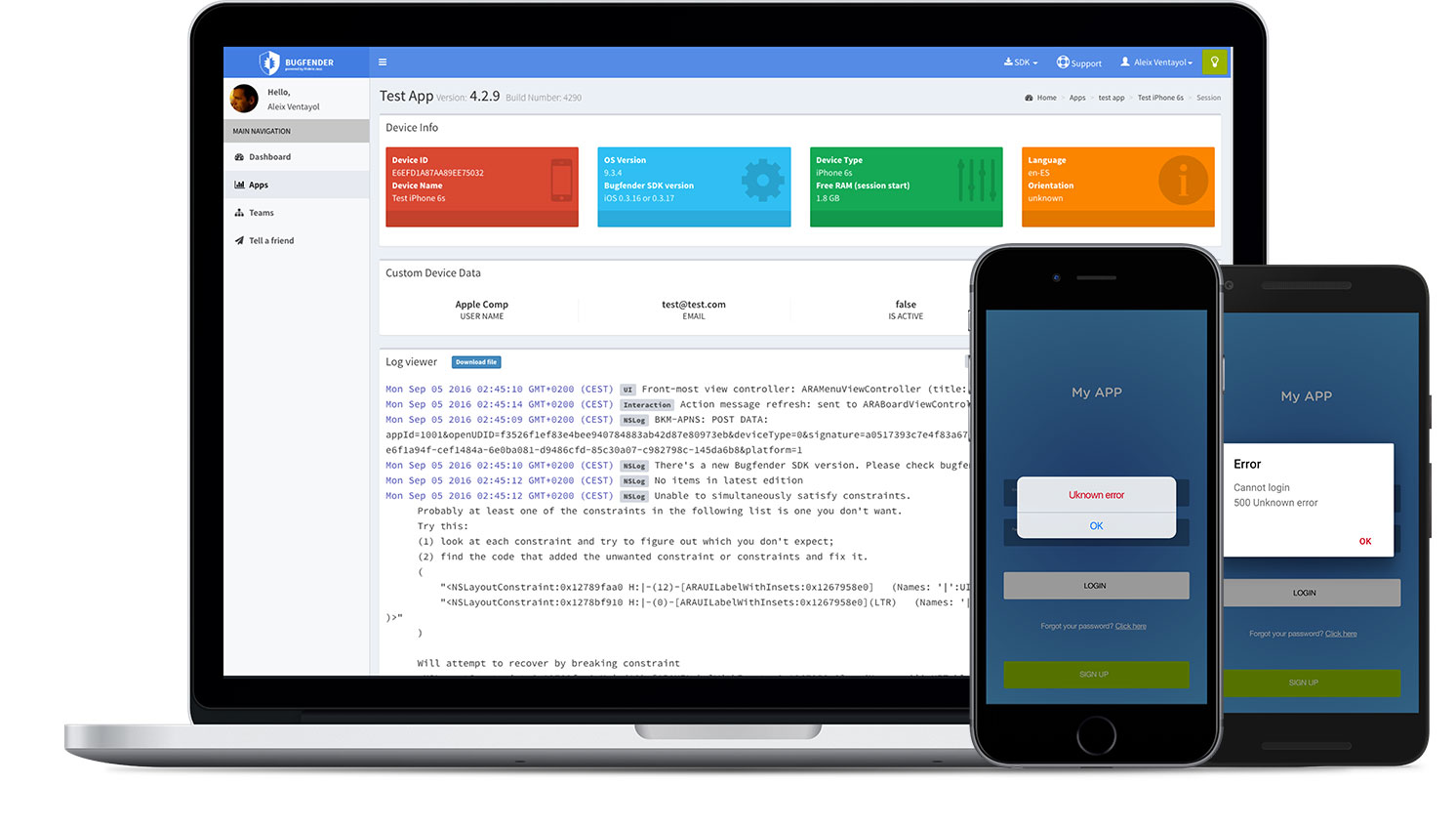 Resolve bugs before users
get a chance to complain
Track application errors and fix them before users find out and complain.
Find bugs faster
All information in hand to reproduce the bug in your devices easily.
Solve your customer support
questions with ease
See the recent activity of your customers when you are working on a support case.
How does it work?
Bugfender is a remote logger for iOS and Android applications. It stores the logs your application generates and sends them to a server.
Imagine having a remote console where you can see logs in real time.
Integrate our SDK in less than 60 seconds.
iOS
See the NSLogs of your customer applications remotely from your computer, it's like having a remote Xcode console viewer. This way you can fix bugs easily.
Android
Get the logcat of your applications directly on your computer, to see remotely what's going on in the customer device and understand the most difficult bugs.
Remote Logger
Logs are sent remotely from the device to our servers, so you can check what's causing trouble.
Remote Config
Logging can be enabled or disabled for each device individually and remotely.
Offline Mode
Logs are always stored locally on the device and will be transmitted as soon as the device goes online again.
Organization
Logs are organized by sessions, devices and app versions. Via our admin panel you can easily find what you're looking for.
Issues
Send issues from the app if you detect any issue within your code.
Device Info
For each logging session, you will get information about the device so you can check OS versions and device features.
Tags & Levels
Set tags and log levels for each log line to later search and filter entries within the log viewer.
Introducing Bugfender Live (new!)
Have you ever had a really annoying bug and just wished you could sit down next to your user and see what was going on?
Bugfender Live enables developers and customer support representatives to see the screens of their users in real time.
Already trusted by thousands
"Bugfender has been great in helping me log errors that were occurring for certain users of my iOS app (users around the world), that I could not recreate on my own device. "

 

Mark, Stereodose

"We've encountered no roadblocks and I like the UI a lot. I found a lot of remote logging solutions to either not provide a good web service or not provide an updated library."

 

Thomas, Go Ahead Tours

"After some of our users reported continuous login issues that we weren't able to reproduce ourselves, we finally found the problem thanks to Bugfender."

 

Krix, Clubkviar

"Bugfender helped me track down a rare bug within Apple's In-App-Purchases (IAP) that was only happening to some of our customers."

 

Aleix, Ventayol App Development


The best remote logger for mobile apps
Get started for free, no credit card required.