Unity Remote Debugging
Make sure you reach the next level
Unleash Bugfender on your game and hunt down glitches to keep your game fast and slick. You will be able to log and debug your game problems in Real-Time.
Bugfender is free up-to 100.000 Daily Log Lines! With unlimited installs, unlimited users, unlimited sessions and enterprise-grade encryption. Get Started!

Equipped with Unity Support, our cloud-based SDK gives you 360-degree control over your game
Win the race
Bugfender provides instant updates any time one of your gamers hits a glitch, so you can zap bugs before they spook your players.
Get the origin story
Bugfender doesn't just send the crash report… it lets you piece together all the steps that led to it.
Never lose touch
Bugfender keeps logging whether your users are at home, at work, in the car or on a plane.
Get the views of your gamers
Our in-app feedback tool shows you exactly what your users think of your game, so you can keep improving it.
Unity Exception Details
Know which device and what version is being used as many other insightful data to pinpoint where and why a bug is happening.
With Bugfender Unity error handling, error monitoring and logging, you are in good hands.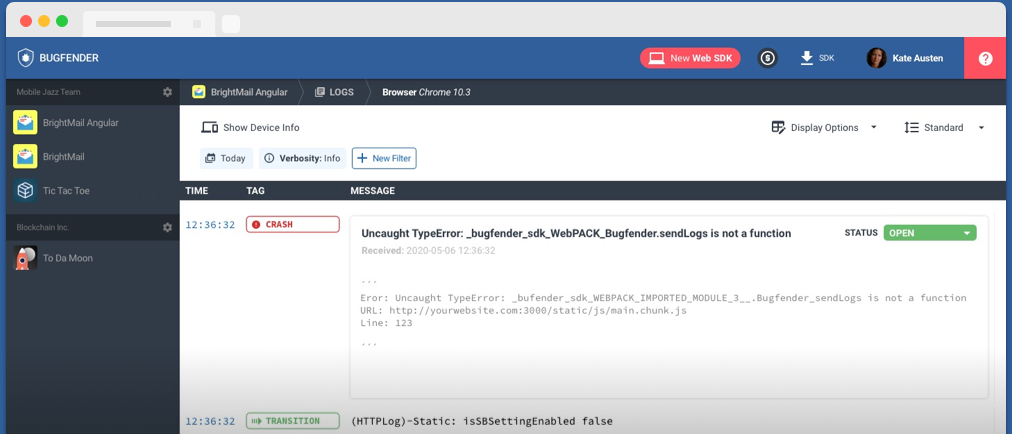 Installing the Unity SDK
Download and import this assets package into your project.
Select your main camera, then in the Inspector pane, select Add Component > Scripts > Bugfender. Set the Bugfender app key.
If your game has several scenes, you only need to add Bugfender once, on the first scene that gets executed.
You can use the Bugfender.Log() method to write logs.
Error Tracking and Remote Logs for Multiple Platforms
Superb Customer Support from Our Product Engineers
Providing top-notch support is a priority for us. At Bugfender, everyone is a customer champion, so when you submit a support request you'll get a fast, high-quality response from our product engineers.