In Short EmmaDB
---
Who Are They
Axioma is a leading engineering company based in Barcelona with a very long experience on noise monitoring for big music festivals. EmmaDB is the new state-of-the-art platform they have created for real time noise monitoring.
---
How Bugfender Helped Them
Bugfender played a crucial role in rooting out issues, particularly around user languages and timezones. And it's was also really helpful to debug IoT technologies on remote devices.
Case Study - EmmaDB
Cutting through the noise: Bugfender and EmmaDB
In June, 200,000 people will flock to Barcelona beach for the return of Primavera Sound, a festival which has been on hiatus for the last two years due to Covid-19. The rebirth of this iconic event has captured the imagination of Europe's music community, and with headliners such as Dua Lipa, Gorillaz and Massive Attack, this year promises to be the biggest edition in the festival's 20-year history.
But there are challenges ahead too, and we're not just talking about the uncertainty of Covid-19. Organisers will have to ensure that their week-long gathering does not impact the residents who live around the beach. Barcelona city council has established strict noise control levels for public events and Primavera's venue, Parc del Forum, is completely uncovered, so there's no way of keeping the sound enclosed.
This is where EmmaDB comes in. It's a real-time sound monitoring app, which provides a continuous feed of noise data and alerts users when their event exceeds a recommended threshold. Emma can pull in readings from various locations, so Primavera organisers can do more than simply monitor the impact at the venue itself; they can see how it's feeding through to the nearby apartment blocks too.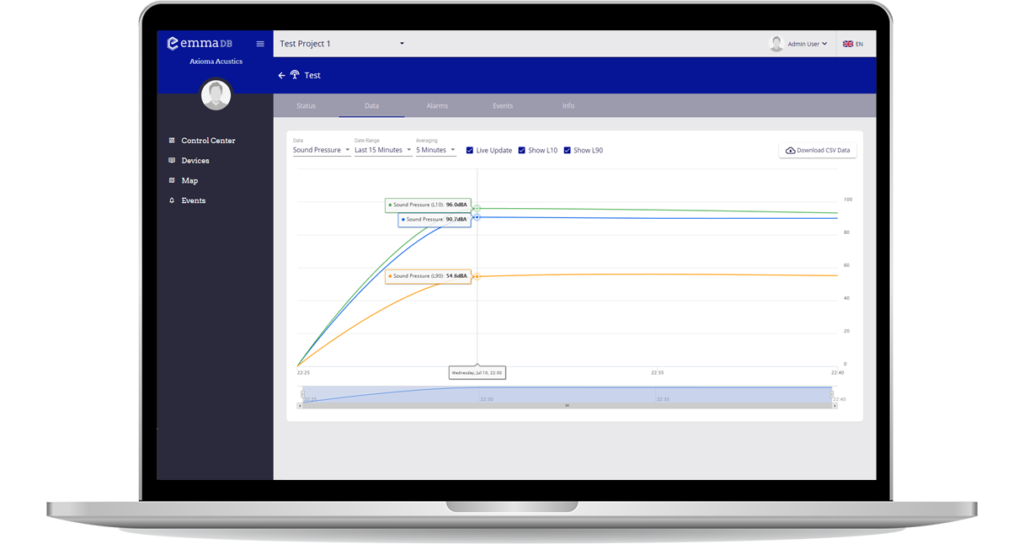 This is just one of many use cases for Emma. It's been applied to all kinds of industries, from the glamorous world of events to traditional industries like mining and construction. As the world wakes up to the problem of noise pollution, its instant updates allow event and facilities managers to roll with the soundwaves.
Bugfender has played a crucial role in the development of EmmaDB, allowing the app to function across different timezones, operating systems, browsers and regional configurations. In this post, Emma's creator Jeroen Paymans will talk us through the development of his app and explain the crucial role that our remote logging tool has played.
A unique solution to noise pollution
Jeroen started his own sound company, Axioma, back in 2001 – the same year Primavera opened its doors for the first time. 
Axioma started out offering a range of bespoke products, specialising in noise and environmental monitoring. However in 2018Jeroen decided to create something truly unique, an app that could provide a constant stream of noise-quality information and enable constant compliance with noise pollution restrictions.
Noise pollution has steadily gained awareness in recent times. National Geographic magazine has termed it an "invisible danger." The European Commission has described it as a major problem for both human health and the environment. And scientists have found that it reduces wildlife species' ability to reproduce, find food and avoid predators.
To effectively control noise pollution, facilities managers and events organisers need real-time information. They need to track each rise and fall of the volume, and pull in wider environmental data to see how wind, rain and extreme phenomena are impacting the overall volume.
So Jeroen and his team built EmmaDB, an app which harnesses IoT, Cloud computing and other fourth-generation technologies. The system is based on Svantek and CESVA sound monitoring units, which feed noise and vibration data to secure Cloud-based servers via radio frequency and ethernet streams. This data is then transformed into essential insights on a web-based interface, which can update every single second and provides alarms via emails and SMS when key environmental thresholds are triggered.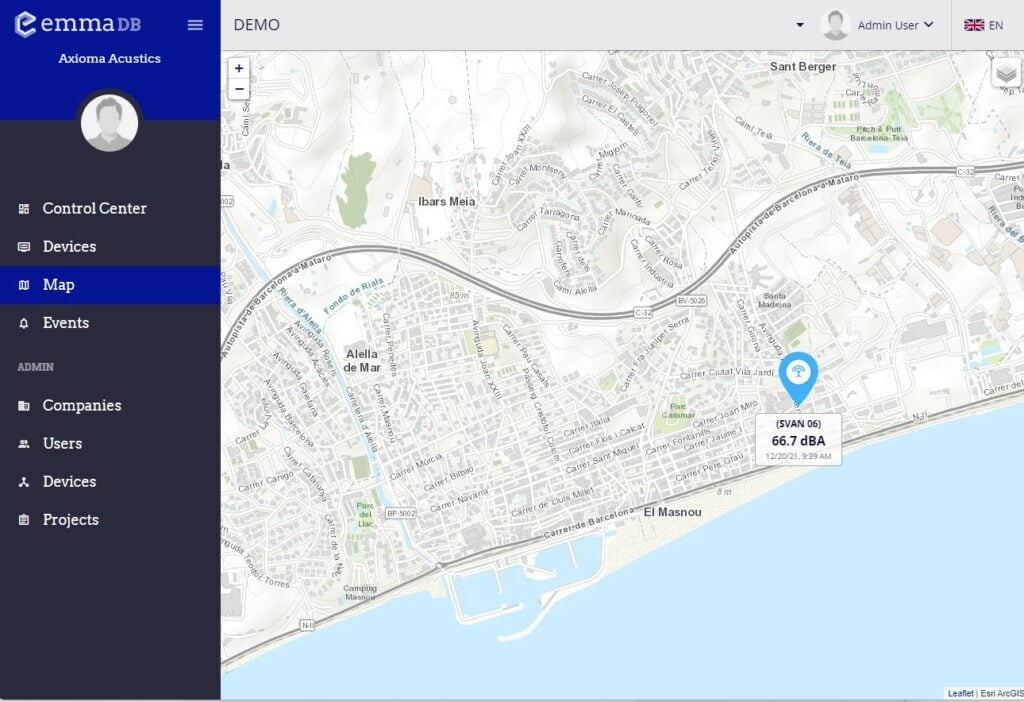 The app is device-agnostic, meaning it can be applied to various different sensor manufacturers across a venue or facility, and it can provide data from several different sites, both on-site and off. Custom plug-ins monitor specific data according to local regulations, and dedicated on-site weather stations provide up-to-date information about meteorological conditions.
The app is a mix of different components and multiple technologies. The data processing component has been written in Go, while the backend/api is written using Javascript (NestJS) and Angular is used for the frontend. All the database information is stored in a mongoDB cluster.
Where Bugfender comes in
When building the frontend app, Bugfender played a crucial role in rooting out issues, particularly around user languages and timezones.
"As most of the app is related to time-series of data, the correct handling of languages and timezones is very important," Jeroen explains. "Bugfender was really helpful in fixing errors reported by different users, where they had the browsers using a regional configuration."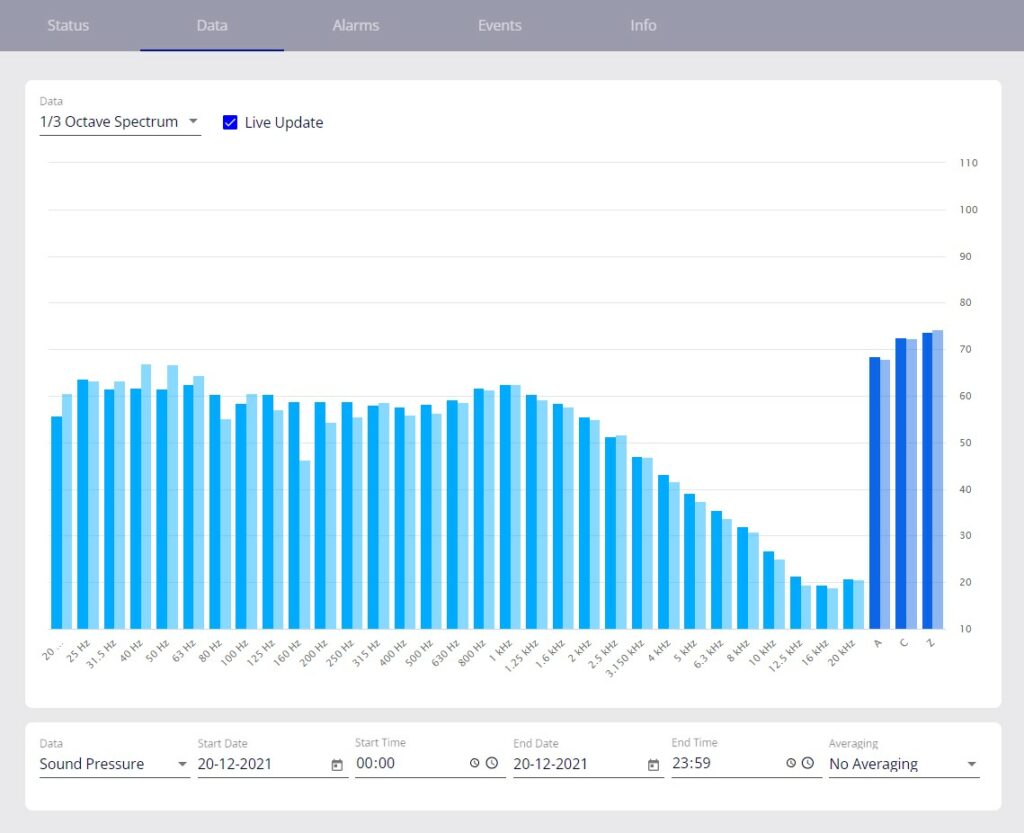 Bugfender also enabled Jeroen and his team to debug messages sent by MQTT, the messaging protocol used by the Internet of Things. Not all browsers possess the debugging capability to allow developers to debug this kind of information correctly; the challenge of logging the activity of nodes, and their interactions, in real time can be a formidable one. However, Bugfender's logs have provided a link between the two and have proven particularly useful during music festivals, helping to identify bottlenecks and improve overall performance at critical times.
A future of growth
The immediate prospects for EmmaDB appear rosy indeed. Europe's events industry is rumbling back into life (future Covid variants notwithstanding), which means more potential clients for Jeroen and his team. As the world becomes aware of environmental issues, we can expect more industries and governments to embrace noise-reduction targets, which means more use cases for real-time sound monitoring technology.
Bugfender will be there for every step of the journey. Our debugging technology will enable the Axioma guys to root out bugs as their app grows and help the app's developers expand their functionality. As EmmaDB is applied to new industries, and terrains, our logs will allow the technology to keep running.
Real-time monitoring demands real-time reliability. And we look forward to providing this service for many years ahead.
More about Bugfender
Bugfender is a remote logging, crash reporting and in-app feedback tool for iOS and Android, designed to empower developers to fix any bug in seconds.
The Bugfender SDK provides constant cloud-based logging for every single device using your app, giving you a complete picture of every issue. The data is fed into a web console where developers can track individual users – allowing them to provide even better customer service.
Bugfender has recently been upgraded with a number of key improvements including in-app feedback, which allows your users to reach you directly and tell you exactly what's happening on their devices. For more details click here.